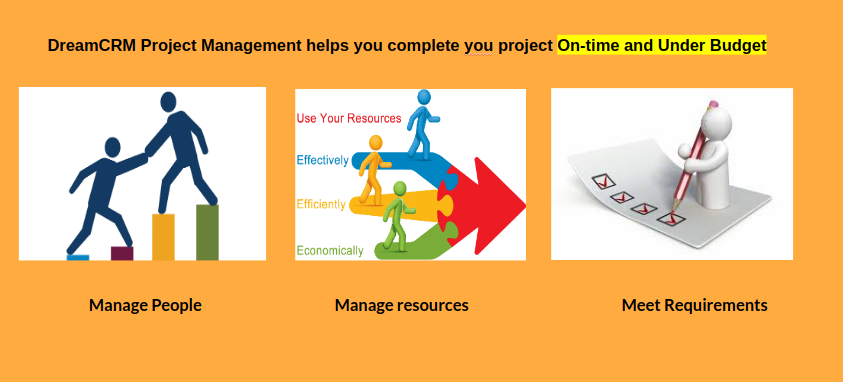 Project Management help managing resources, tasks, budgets, and schedules. A project management system tracks information on a project-by-project and client-by-client basis. DreamCRM project management helps you to keep employees on task and ensure that work is completed on time. Through task coordination, productivity tracking, and communication tools, project management solutions help teams with productivity, efficiency, and accountability.
Benefits of project management DreamCRM software:
Nowadays most of the industry is majorly working on multiples projects at once. Since each individual employee may be assigned to multiple accounts, careful coordination is required to make sure everything is completed on time. If your company or agency is looking to improve in any of the following areas, you may benefit from a project management software.
360 View of customer and project information:
CRM System does not mean having a single database. Using a customizable dashboard you can see the information that is relevant for the users, manager, or team leader will give you a great overview of the data on your project. A CRM system gives you the ability to store all your contacts, accounts, and project data in one database that can be accessed by everyone in your organization, and from anywhere with easy use web browsers or using the mobile app. It helps everyone stay up to date with everything that's happening on your project and also ensures there is only one set of data, rather than multiple versions.
Assigning the right task to the right person:
Projects are broken down into sub-tasks; each team member has specific skills and competencies. With the Project Management Module, you can easily assign tasks to the available team members who are best equipped to carry them out. All team members can view their schedules and plan their work accordingly.
Project Tracking:
Manage and track entire projects throughout their lifecycle within DreamCRM. Define or we can say create project templates for common types of Projects, with lists of project tasks and assigned resources. The Projects list view includes columns for the total value of a project, as well as the expected revenue from the project.
Gantt Chart
A Gantt chart is a graphical depiction of a project schedule. It's is a type of bar chart that shows the start and finish dates of several elements of a project that include resources, milestones, tasks, and dependencies.
Booked Hours & Timesheets:
DreamCRM makes it easy to track time, invoice, and get paid. Booked hours can easily be attributed to time spent on projects, customer cases, or simply record day-to-day business activities.
Expense Reports:
Expense Reports may be filed by employees at any time (including on-the-go!). Expenses may also be charged to Projects, or to pre-Sales Account work.
Stay up-to-date with your outstanding activities:
Using DreamCRM Project management features not only view a list of outstanding project activities in CRM, but it can also automatically highlight those that are due soon, or even overdue.
Improving reporting:
Forget about manually crunching numbers in spreadsheets or worse, having no idea what's happening with your projects. Built-in reporting tools are a key component of most project management systems. Use these handy stats and dashboards to examine how individual projects are progressing or to take a broader look at your agency's productivity over time. These reports can be used for everything from internal process audits to client presentations.